Wedding Tips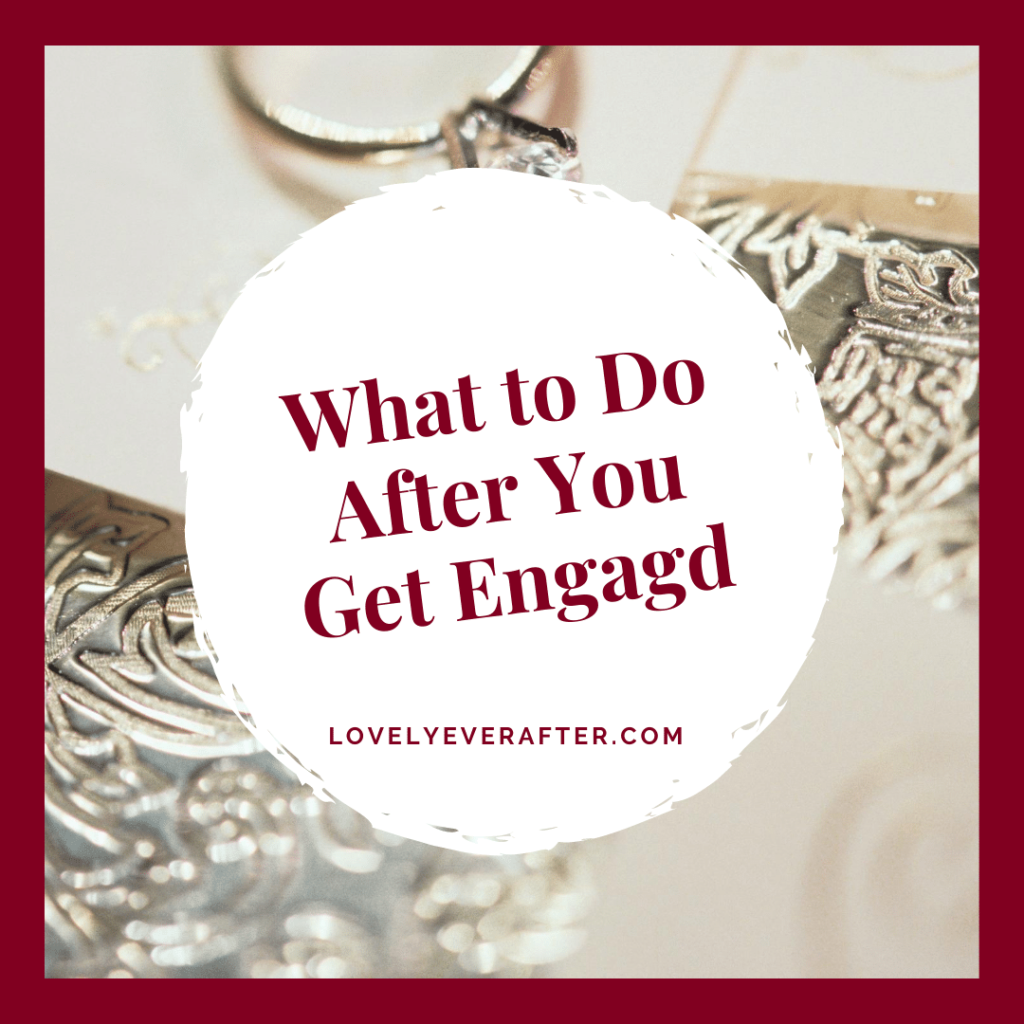 What to Do After You Get Engaged
I belong to some wedding planning Facebook groups, and it seems like everyone is getting engaged. After all, it is engagement season. One thing I'm noticing is that these couples have no idea where to start. They're posting to these groups asking, "What do I do?" Well, let's start with the basics. Here are a few things to do after you get engaged.
Get Your Planner
If you can afford to hire a planner, this is the time to get one. Hiring your planner early gives them more time to help and be involved in the process. It can also save you a lot of headaches. For the most part, there are two types of planners: full-service and month/day-of. There are some planners who do partial service planning too, but for the most part, it's split between those two types
Full-service planners help you do everything. They help you to execute your vision to the best of their ability. Give them a budget and a direction, and they're ready to go. Depending on your package, they'll reach out to vendors, go to meetings with you, review your contract, and design your wedding. They're a combination of expert event planner and your personal wedding cheerleader. They'll also be there the day-of to make sure your day is exactly what you want it to be.
A month/day-of planner is exactly what it sounds like. They usually come in a month or two before your wedding, though they're also usually available for advice once you hire them. They are the point person on your big day. They'll take care of all the details, make sure everything is set up, and guarantee you won't need to worry about anything.
It's just always good to have someone take care of the details. A full-service planner can help with the next steps I'm going to talk about or they can come in after the following steps. Unsure if it's worth hiring one? Check out our blog post about it here!
Figure out Your Budget
Your budget is your priority number one, so be sure to do this right after you get engaged. It helps decide things like venue, guest list, and what kind of meal you can afford. Look at your finances, talk to the parental figures in your life if they're helping, and put together a number that makes sense.
If I had to throw my two cents in, a number that makes sense allows you to get the closest to the day you want while not leaving you broke. You probably know the saying, "You only get married once." This might be true, but that also means you're spending a lot of money on something that only happens once. Tread carefully.
Then, if you have one, your full-service planner can help you organize where that money is going to go. Planners take what matters to you most, their own budget guidelines, and their extensive knowledge to then develop you a budget.
If you can't afford a planner, look up a budget breakdown, and allocate the funds based on what is important to you. This means you add more money to the music budget if that's more important to you by forgoing fancy stationery. Pick the things you really want and move the money around until you can afford them.
Write Down Your Guest List
There are typically four guest lists. Your guests, your future spouse's guests, your parents' guests, and your future spouse's parents' guests. Everyone has to make their list. Then, the couple needs to come together to create the final list as well as the dreaded B-list. It seems harsh, I know, but a B-list is crucial so make sure you create one. The Knot estimates that 15% of your list will RSVP "no," and this number is 20-30% for destination weddings.
This is why you have to have a B-list. When you book a caterer, you often book for a minimum. This means you're paying for, say, a hundred people no matter what. So, you might as well hit that minimum since you're paying for it. There's nothing wrong with just being able to invite more loved ones to your wedding if given the opportunity.
Getting your guest list hammered out after you get engaged is also important because it affects things like the venue. You can't pick a venue until you know how many people have to fit in it. The last thing you want to do is pick a venue and then find out it can only hold half your guest list. And please. Please do not try and fit your larger guest list into a smaller area. It's uncomfortable for your guests, and you might run into issues with fire codes.
Pick Your Date and Your Venues
After you get engaged, this is the first step to really pulling your wedding together. This part is a little tricky since you could be doing this simultaneously with your guest list. These two things are pretty connected, but it depends on what's important to you. For instance, if the location is most important because you have a specific venue in mind, then you'll probably take whatever date they have that's in the general season you want. On the other hand, if the date itself is the most important, then you'll need a venue that works with that date. With both things, flexibility is key.
Put together a list of either dates or venues or both. The Knot and Wedding Wire are great tools for your venue list, but so is a Google search for local venues. You might find a hidden gem that can't afford to be on those sites (and yes, they cost vendors money, A LOT of money). Then, just start reaching out and having a conversation with those vendors. Find out how much they cost, what a package includes, and what dates/areas they have available. Just do the courteous thing and let a vendor know when you decide not to go with them.
There you are. The four most important things to do after you get engaged. This isn't everything, obviously, but it does give you a starting point to work with. Now, take a deep breath, and get going. You've got this, and help is out there if you need it.
What are your biggest concerns as you start to plan? Comment below!