One of our favorite southern wedding traditions is the bridal session. A bridal session is a photoshoot with just the bride wearing their amazing wedding dress, and a print from the session is typically displayed at the reception. We love the idea of getting all ready and having a dedicated photoshoot to show how beautiful you are! But if you're unfamiliar or unconvinced, here's why you should do a bridal session.
Finalize your look for the day of
Planning on getting your hair and makeup professionally done? Do your trial on the day of your bridal session. First, you'll look amazing for your session. But having your trial done also gives you an idea of how your makeup is going to photograph. Sometimes we love our makeup, but we love it less once we see it in a photo. Save yourself some later trouble and find out how your makeup photographs. On top of hair and makeup, you can get a trial bouquet for your session. This is a great way to see what your bouquet is going to look like and if you want any changes.
Master the wedding dress
If you're wearing a wedding dress, a bridal session can be great practice for moving around. Some wedding dresses have long trains or they're really heavy. So, learning this ahead of time and having time to adjust is always good. Not to mention, this is a great way to see if your dress needs further alterations. You might discover that something needs to be fixed, and you definitely want it fixed before your wedding day.
Reduce stress on your wedding day
There are a couple of ways that a bridal session reduces wedding day stress. First of all, it allows you ample time to get gorgeous bridal portraits. This reduces stress and pressure on the day of to get all of those amazing shots during cocktail hour. You'll have a dedicated hour or two to capture your look. Second of all, it gives you practice posing and getting the looks you want. You're more likely to be relaxed while getting photographed on your wedding day if you've already had tons of practice!
Celebrate yourself
You put so much time and energy into your wedding day look (not to mention, money!). Take the time to really capture that and celebrate yourself. Get those amazing photos that you'll love forever and that you can give to others, like your parents. Bridal sessions are just a great opportunity to spoil yourself. Go on. You deserve it.
We absolutely love bridal sessions because we get to see brides dedicate time to themselves and how good they feel. Check with your photographer to see if they offer bridal sessions and if they're included in your package. It's worth asking!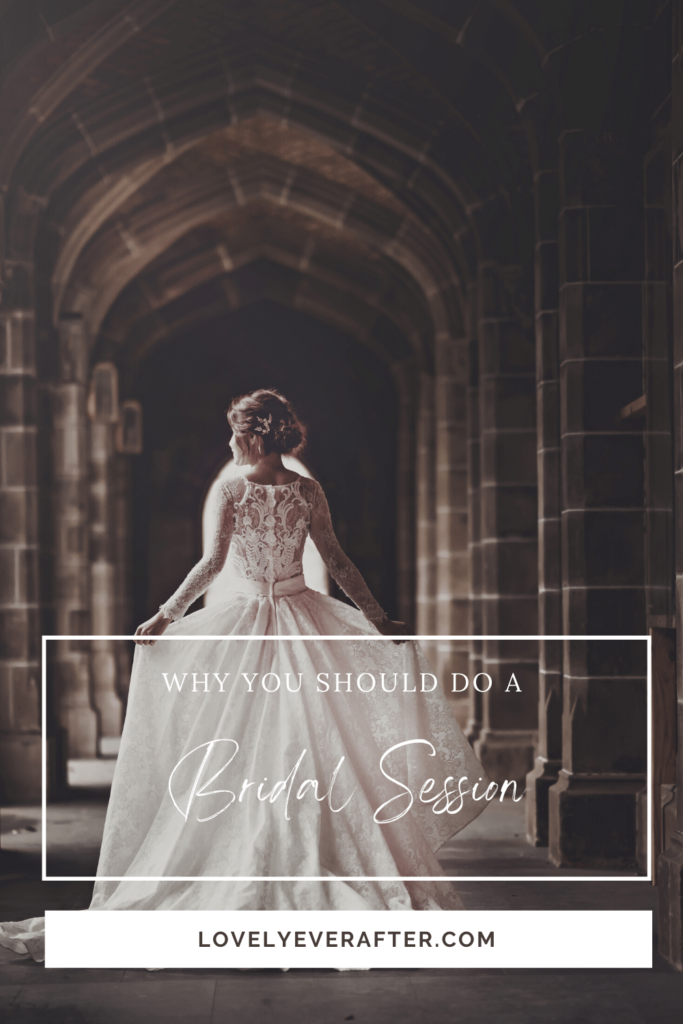 Erin Lafond is a blogger with ample experience writing about weddings. She planned her own wedding and got married in October 2019. She lives in New Hampshire and loves a casual wedding with luxury details.