There's nothing we love better than an amazing hairpiece to upgrade your wedding look. The best part is that there are tons of different types of wedding headpieces out there, which means you can find one for you regardless of your style. Today, we wanted to share our favorite Etsy hairpieces to help you find something you love.
This post may contain affiliate links, which means we'll receive a commission if you purchase through our links, at no extra cost to you. Please read full disclosure for more information.
1. Gold Petal Headpiece
This gold petal headpiece is a gorgeous addition to any vintage or elegant look. This Etsy wedding hairpiece is handcrafted and can be adjusted to fit your wedding hairstyle. We love how stylish and delicate it looks. It comes in silver and rose gold too, so you can decide which color works best with your wedding gown!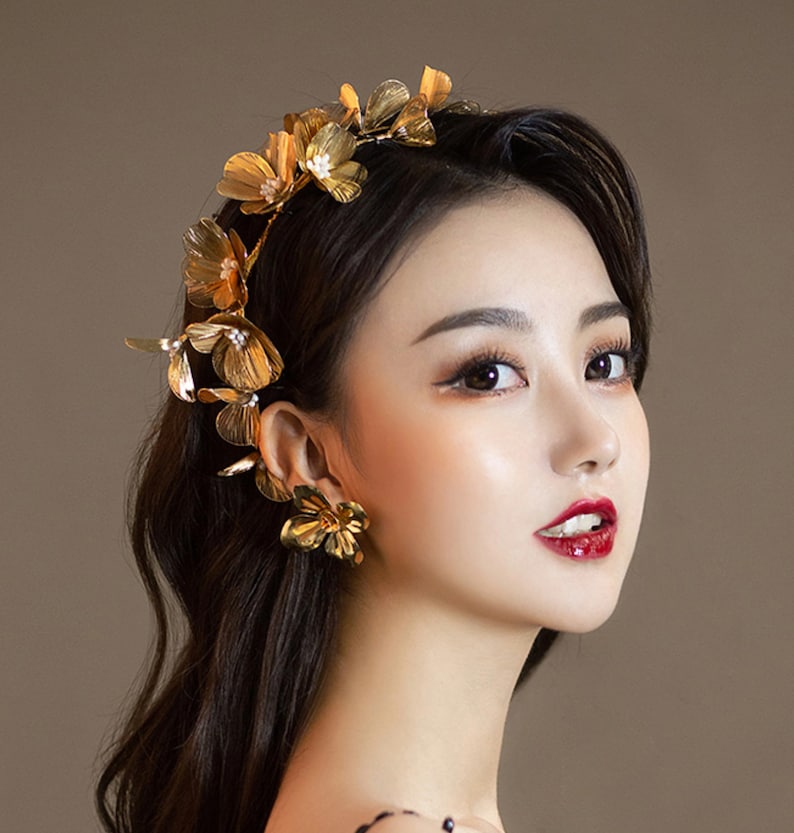 2. Silver Bridal Hair Vine
We love this silver bridal hair vine! It's simple but elegant, and it just adds a delicate touch to your look. This crystal and rhinestone vine is flexible, so you can fix it to match whatever wedding hairstyle you choose. It's also available in two different lengths, which means you have options depending on how long your hair will be.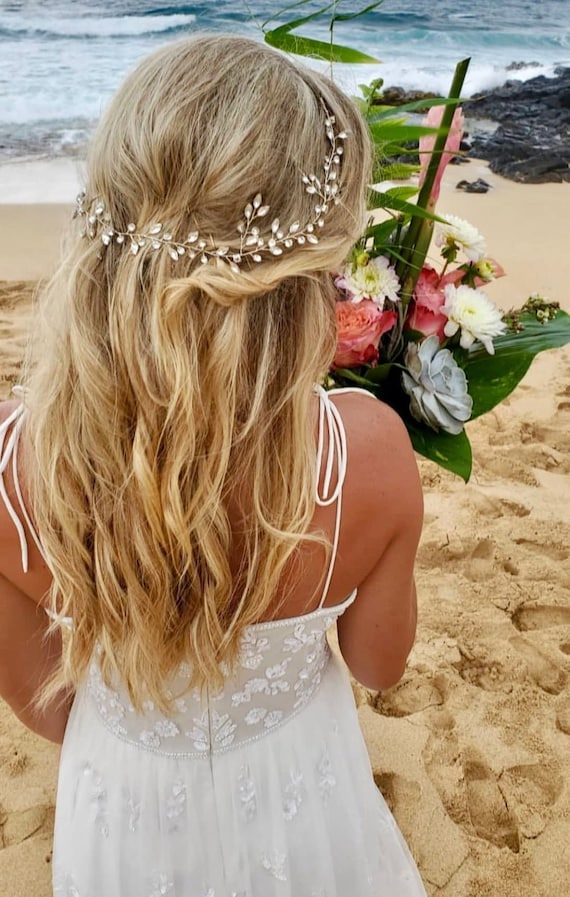 3. Pearl Bridal Headband
If you're looking for a more boho look, this pearl bridal headband might be more your style! This Etsy wedding headpiece will look gorgeous on you whether your hair is long or short. It's simple but elegant, which makes the perfect finishing touch.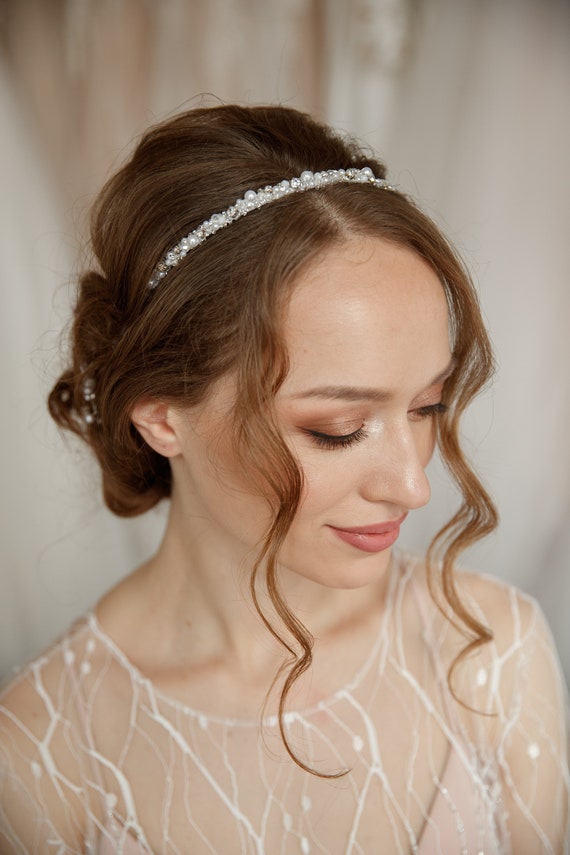 4. Large Rhinestone Headpiece
If you're looking for a larger wedding headpiece that will really upgrade your wedding day look, we love this rhinestone one! This hairpiece is 12 inches by 5 inches, making it a real statement piece. It's silverplated and has a coating of jewelry protectant, so it'll stay gorgeous. You can use it in a variety of hairstyles too!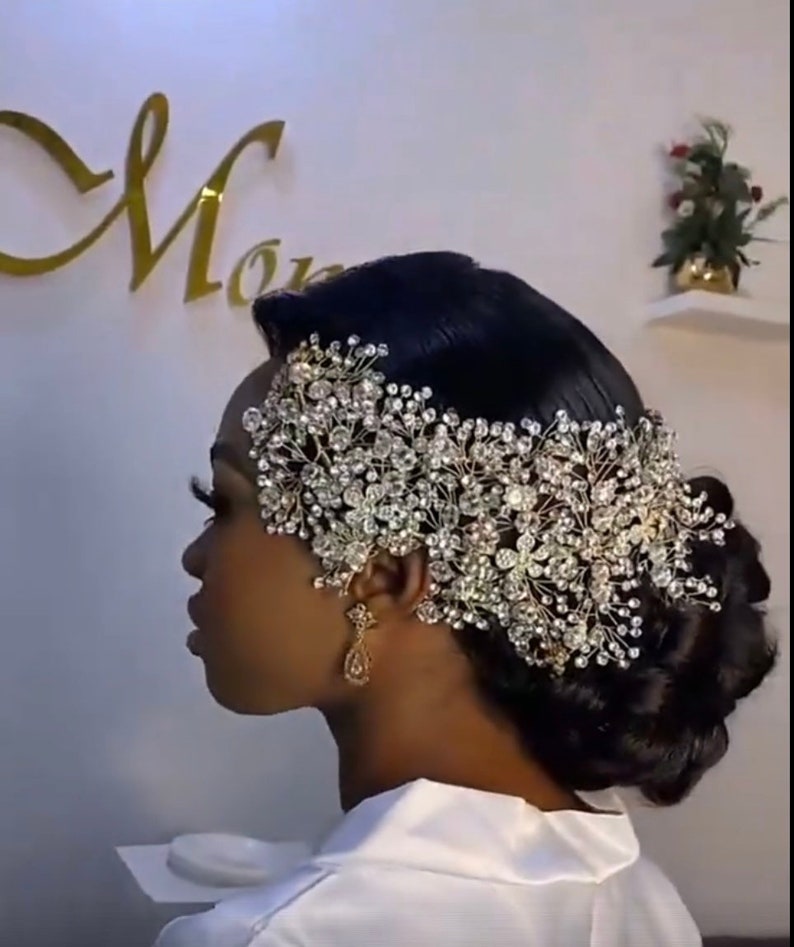 5. Gold Pearl Bridal Comb
If you're looking for a smaller bridal comb to add that finishing touch, check out this gold pearl comb! This comb is handcrafted and versatile, meaning you can use it for most wedding hairstyles. It's perfect for any classic wedding day look. If the color is holding you back, it comes in silver and rose gold too!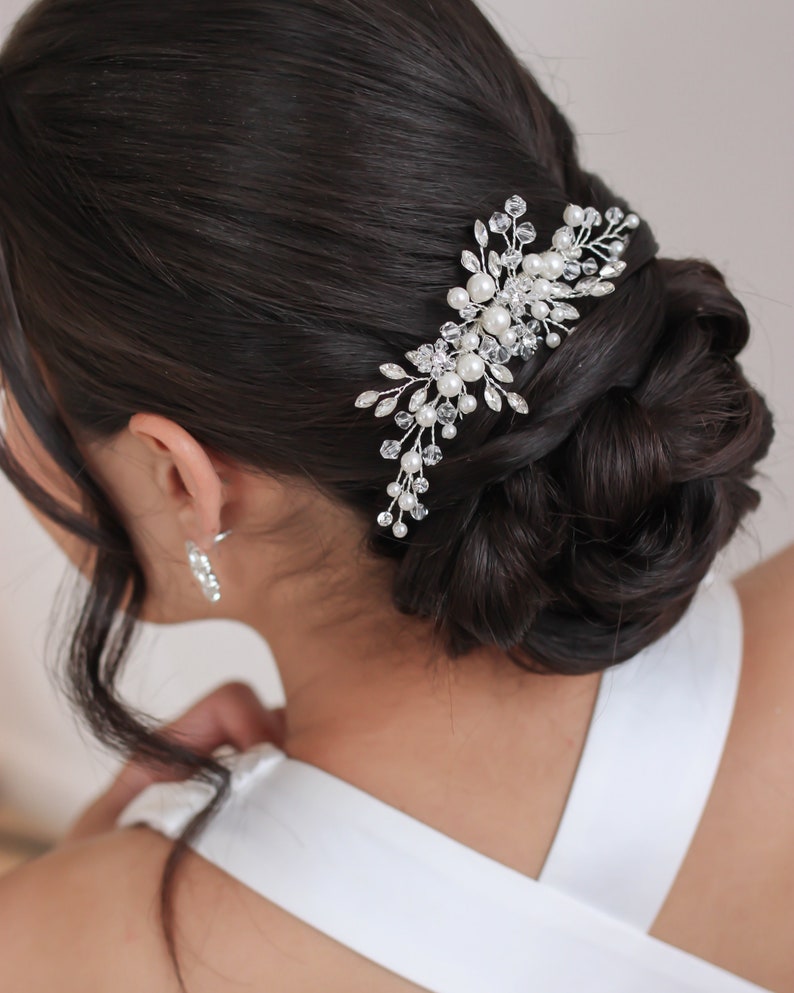 6. Crystal Headband
This wedding headband is far more of a statement piece! It comes in silver, gold, or rose gold, and it goes so well with any elegant wedding look. The crystals are cubic zirconia, which means you don't need to stress as you're dancing, but you still get that gorgeous crystal look. We love how unique it is too!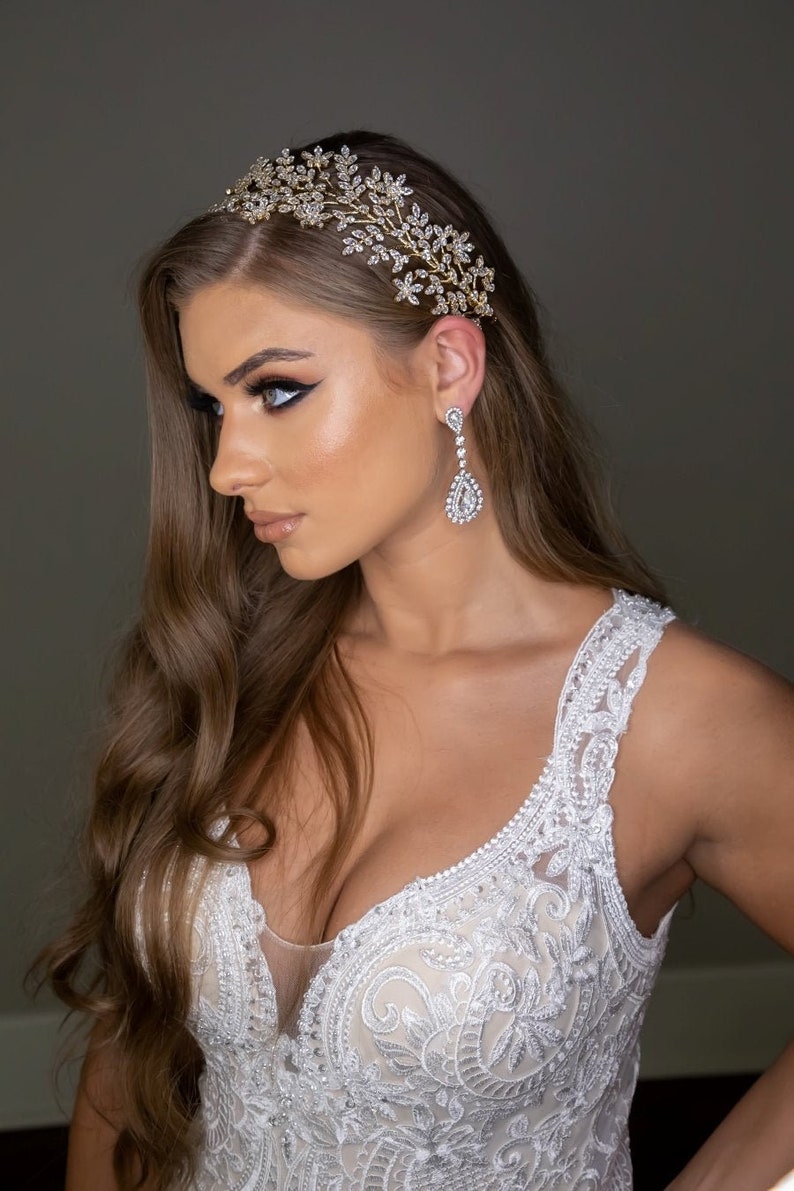 7. Pearl Bridal Headband
Looking for more of that all-over pearl look? This pearl bridal headband is one worth your consideration! This elegant wedding headpiece is perfect for the classic bride.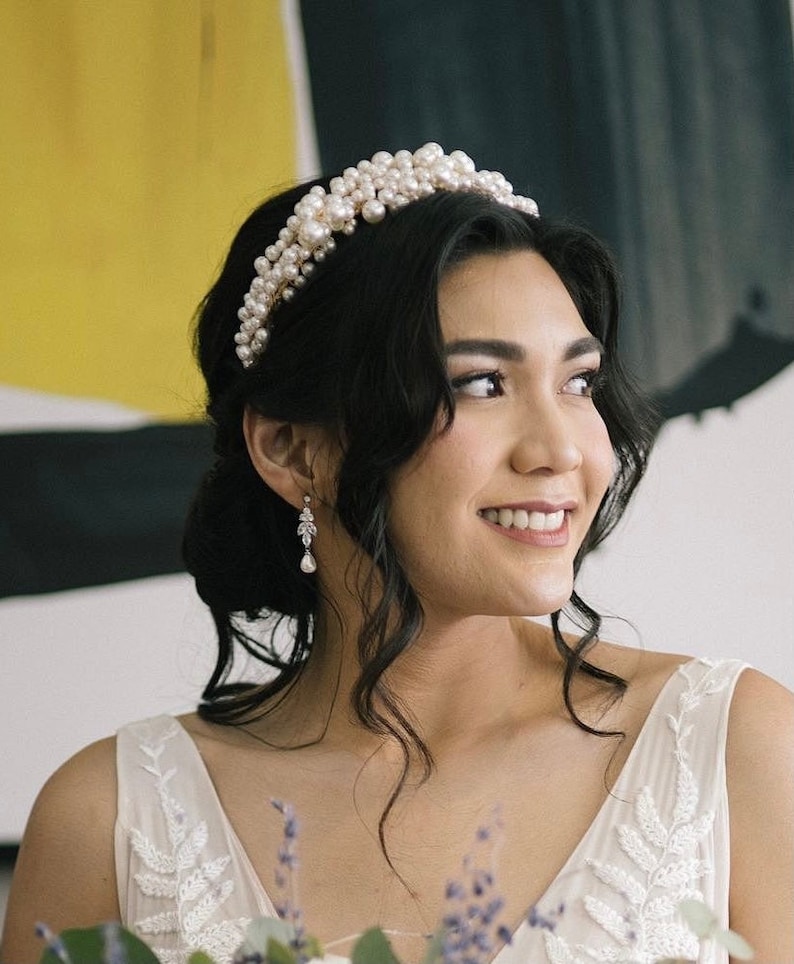 8. Dried Flowers Wedding Headpiece
If you're looking for a floral piece to finish off your wedding hairstyle, we love this one! It's handcrafted in the UK (so be sure to buy early), and the wire loops make it easy to attach to most hairstyles. This headpiece is perfect for a boho look or for someone with unique style. If you love the dried flower look, this seller has different options too!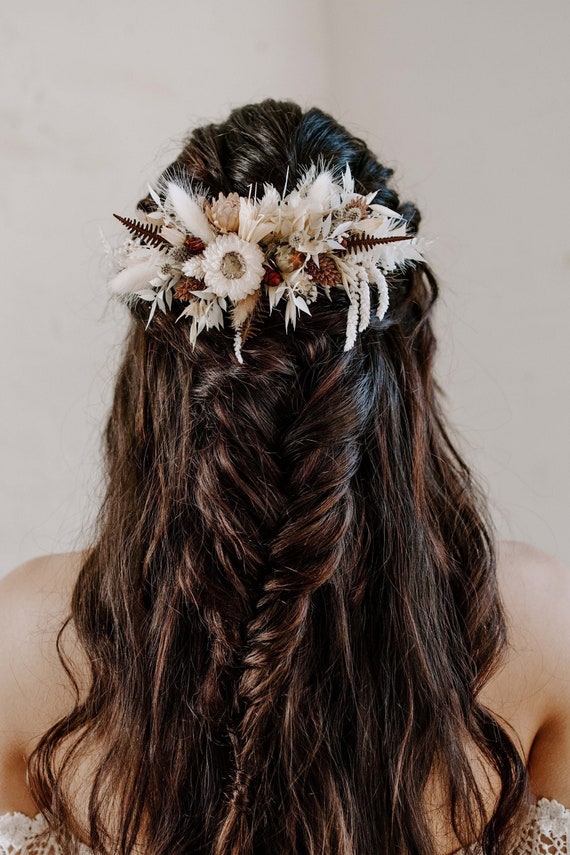 9. Eucalyptus Floral Crown
Another way to incorporate florals into your wedding day look is through a flower crown! This flower crown has dried eucalyptus and baby's breath, which means it matches most rustic or casual wedding styles. This is another UK buy, so be sure to order early if you fall in love with it!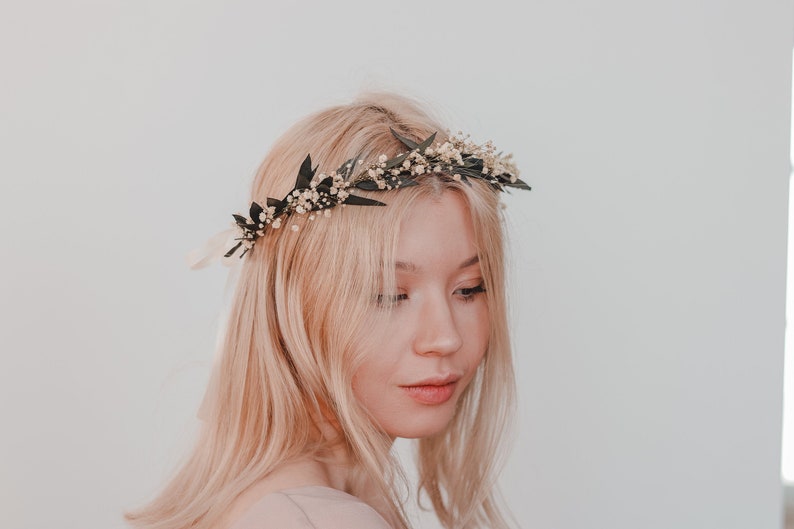 10. Floral Wedding Tiara
Is there anything better than a tiara for your wedding day? This floral wedding tiara is amazing for anyone who wants to feel like a princess when they get married. It's handcrafted and comes in silver, gold, and rose gold. This Etsy hairpiece is also lightweight, meaning you don't need to worry about a headache on your wedding day.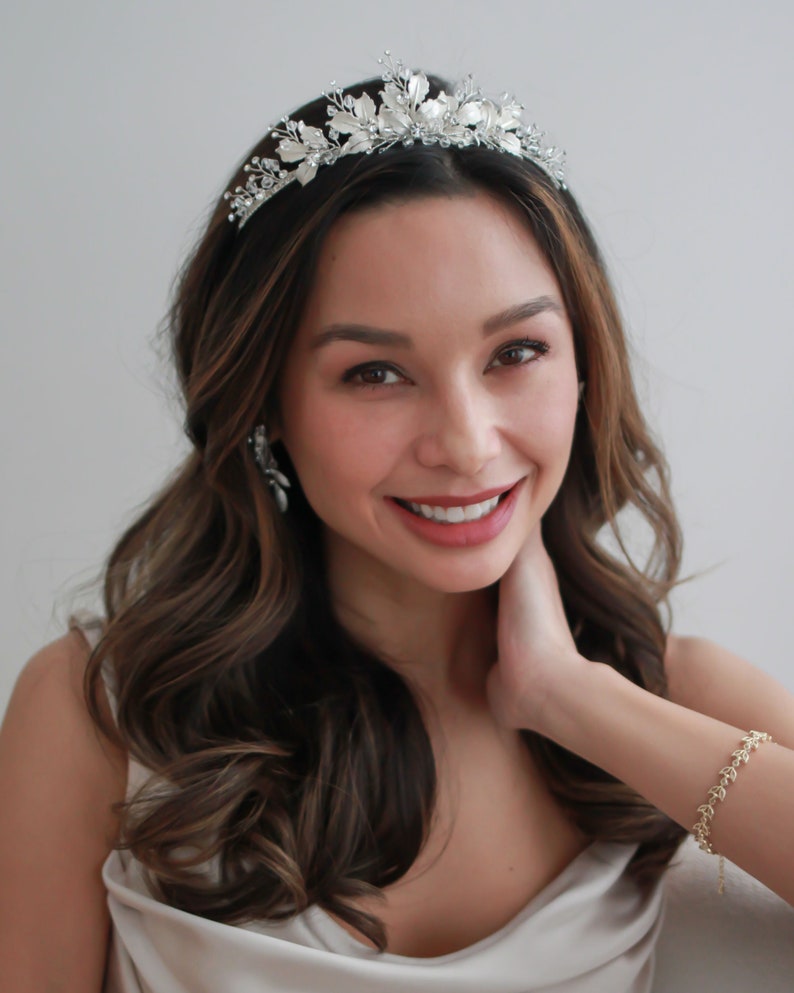 Etsy is a great place for all of your wedding needs, and we especially love it for wedding headpieces. You can get a variety of styles to match the look you're going for and the hairstyle you've chosen.
Which Etsy hairpiece is your favorite? Let us know in the comments!
Erin Lafond is a blogger with ample experience writing about weddings. She planned her own wedding and got married in October 2019. She lives in New Hampshire and loves a casual wedding with luxury details.